Hi Y'all!
I know I've been braggin' about what a good dependable fella I am! Do you feel you'd like a Chessie companion? Are you ready to go to an AKC school to learn how to work together as a team? Can you invest the time and energy to find jobs for your Chessie?
If the above are you, consider the most gentle, sweet gal I know…her name is Coco.
She's 7 years, way past the chewing stage, and used to staying alone during the work day…She weighs in about 60 pounds. She came from a loving family, and it shows. Unfortunately they can no longer keep her.
Currently in foster care, she has proved she loves people, greets them with waggin' tail. She's well socialized; gets along with other dogs and cats. Also, she loves kids. The little boy in her foster home can carry his snacks around and though she follows him she won't attempt to steal his food.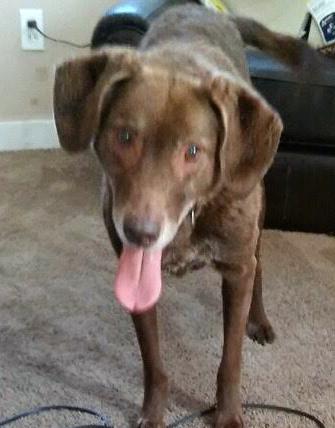 She's so sweet and so well trained that she'll just gently lick you face when she has to go outside. Also, she won't get on the sofa or bed with you unless invited! She knows her commands and is well behaved on a leash.
Coco is a happy gal who loves to play fetch. Her wish would be to have a fenced yard where she could play fetch and run free!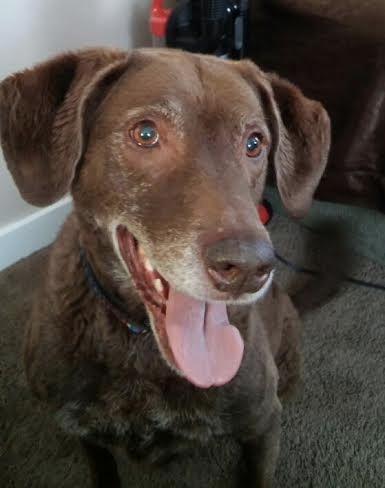 Now, you might be saying…if she's such a well trained and perfect gal, why go to school with her? Let me tell you, it's for you! AKC trainers are there to spot things you're doing that might confuse us. In school together, you learn about each other and how to communicate.
If you are interested in Coco…CONTACT: skbergeson@gmail.com
P.O. Box 1750
Minnetonka, MN 55345
Coco is spayed, fully vetted, weighs in at about 60 pounds and has no known health problems.
Y'all come on back!
(All photos and information are courtesy of Petfinder.com and Adopt Me! Dog Rescue)
The Tuesday's Tails blog hop is hosted by Dogs N Pawz and Talking Dogs.